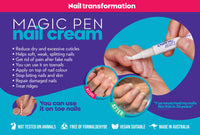 Magic Pen Nail Cream
Are you tired of nail products? Have you tried EVERYTHING and it didn't work for you?
Magic Pen is a revolutionary product with our unique formula! Daline has 20+ years of experience doing nails.
What you can see here is the result of many years of trials.
We are here to help you! Give your nails a chance. We developed the Magic Pen with a lot of love inside. You won't find this product anywhere else! :)

Customer Review (see more below)
"Magic pen is such a suiting name, seriously. I am spewing I didn't take a photo of my nails beforehand but trust me when I say, they were terrible. The worst they had been in my life and my nails have been bad. I am still only on my second pen... the first pen I used twice a day which lasted a few weeks. Now I only apply once a day every other day. I will NEVER be without this. Thank you Daline you nail GODDESS."
—Cassandra Linnell, Croydon, Victoria
View Products
More Pens = Better Results
Magic Pen (single)

Starter Pack (3 pens)

Value Pack (5 pens)
Where Can I Find The Magic Pen?